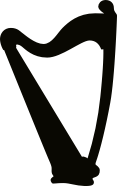 Tamsin Dearnley
Library
This collection of pieces is the result of many years of teaching. Whilst I remain a huge fan of technical exercises and scales, I also realise that when you begin to learn an instrument it's also just nice to play some 'real' music for your own pleasure! Each one of these pieces was written with a particular student in mind, to (hopefully) answer a need, whether it be to improve their triad placing or to have something 'a bit like Debussy, all pretty and waterfall-y, but I'm not very advanced yet so maybe something with no lever changes?'
Having returned to the lever harp from the pedal harp, I have looked again with fresh eyes at its unique tonal capabilities. Often considered inferior to the pedal harp due to the slowness at which one can change key, I find that the lever harp actuyally offers some incredibly exciting possibilites due to the fact that each string can be tuned individually.
This suite of pieces is an exploration of this idea: for each piece I would place the levers in an entirely random setting, and then create a piece using only the notes I now had available to me. Whilst some of the pieces are demanding in terms of technique, there are in fact no lever changes in the entire suite, despite the contemporary sounding harmonic world they inhabit.* I also feel that the lever harp needs its own repertoire, entirely different from that of the pedal harp - these pieces are in fact impossible to play on the latter!
*Okay, fine, there is one between sections in the Nocturne!
Video playlist of the five-piece suite; for audio only see players below
The harp (and perhaps the lever harp in particular) is perhaps not the most obvious jazz instrument. It is true that the lack of readily available chromaticism can prove challenging for some jazz styles. However, this is no reason why we shouldn't try!
I have even had the honour of contributing to the Trinity College exam harp syllabus with a ragtime composition (grade 5, shown below), so jazz on the (real) jazz harp is definitely going mainstream!
16,234 (.47) - 1st prize winner of the Wild Strings Pop and Jazz Harp Festival 2018 composition competition (!)
The Moving House Rag - 3rd prize winner of the Wild Strings Pop and Jazz Harp Festival 2018 composition competition - now part of the grade 5 Trinity College harp exam syllabus
Annie - a jazz ballad style song with lyrics by João Ponciano (singing here)