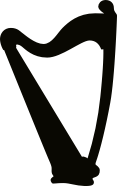 Tamsin Dearnley
Harpist
I never quite meant to become a professional lever harpist - like many of my contemporaries, I began to play the harp as a child out of a love of the instrument, having some vague idea that I would go to music college and study classical music (the accepted route to becoming a musician at the time).
"Full of energy on her strings, she is at one with her instrument, which she adapts to her interpretation of all her pieces, including her own contemporary and atonal compositions..."
However, I was never a well-behaved pedal harpist - an upbringing based more on improvisation and folk music meant that sticking precisely to a score was never going to be my strong point! Deciding against pursuing a conservatoire education, I began to develop my own style of playing and performing using elements from both classical technique and my background in improvisation and free-arranging, applying these ideas simply to 'music that I liked', regardless of genre.
Recently, I have been trying to improve my knowledge of (and skills at playing) jazz - a genre of music I have long adored but always assumed was impossible on the lever harp. Whilst it's true that there are many things one can't do (playing in more than three flats is, sadly, something of a challenge), I realied I was perhaps trying to treat the instrument too much like a piano and considering too much what I couldn't do rather than looking at what it /could/ do.
Watch this space as I continue this journey of exploration. I have a feeling I'm in this for the long haul...!
I absolutely love to teach, and am happy to accept pupils of all ages and abilities. I offer private lessons in person as well as online using Skype/Facetime/your videochat link of choice. I also teach group workshops, and enjoying covering a diverse range of courses - from beginner-oriented 'hands on harp' days to pop and jazz arranging for the harp. I have run day, weekend and residential courses throught the UK and France.
"I think that was the best day course I've ever done!"
"Perfect and inspiring"
Contrary to popular belief, the harp is not a particularly difficult instrument to play - like anything, it's simply a matter of practise. It also has the advantage of sounding beautiful right from the start!
I use a variety of methods according to the needs of the pupil, with a focus on being able to produce 'real' music (as opposed to exercises alone) from the start (way more fun that way!). I teach both by ear and using printed music, although at first I strongly encourage aural learning to enable the student to focus on technique and the sound that they are producing, before introducing printed music and theory where necessary.
Please see the FAQs for more detailed information on learning and choosing a harp, or contact me to arrange a lesson online or in person.
Harp Hire
Hiring a harp can also be a good way to get started without too terrifying a financial investment. See what's available
Here be everything that doesn't fit neatly into another category just now