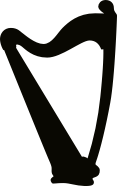 Tamsin Dearnley
Compositions
I have enjoyed writing music for pretty much as long as I can remember. As a child I would subject my family to nonsense songs about raindrops and spiders, before dragging my long-suffering mother to the piano to help me write down my latest creation.
Music for the harp
This collection of pieces is the result of many years of teaching. Whilst I remain a huge fan of technical exercises and scales, I also realise that when you begin to learn an instrument it's also just nice to play some 'real' music for your own pleasure! Each one of these pieces was written with a particular student in mind, to (hopefully) answer a need, whether it be to improve their triad placing or to have something 'a bit like Debussy, all pretty and waterfall-y, but I'm not very advanced yet so maybe something with no lever changes?'
Obviously, not ever piece I have ever written for my students has made it into this collection; these are just my favourites!